As reported in the news, on Sunday, April 26, 2015, an earthquake measured at 7.8 on the Richter scale occurred in the heart of Nepal. I traveled extensively across Nepal for the following 2 years, meeting with over 600 Christian leaders there. As relief continued, our team has been present, providing support in equipping and empowering leaders.
Our team oversaw the assembly and distribution of Humanitarian relief packets for affected families. We distrusted supplies to around 1000 families (average family of 3-4 people). Each packet contained a tent, a month supply of water, rice, lentils, oil, rain jacket, salt, sugar, tea, and mosquito repellent. Priority is given to widows, orphans, and families with injured.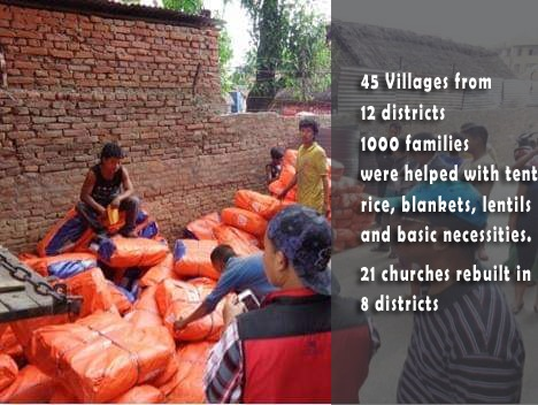 We distributed packets to Jyamdi and other surrounding villages of Kavre District.
21 Churches in 8 Districts were classified for Aid in rebuilding their facilities. This was done in 3 stages based on their fund requirements. We distributed Blankets, Concrete, Cement, Sheets, Pipes, Building Churches, Shelters.
STAGE 1
Kathmandu – Nigah Church, Raniban Shiloam Church
Makawanpur – Ranibang Church
Dhading – Hebron Church
Dolakha – Belivers Church
Morang – Belivers Church
STAGE 2
Kathmandu – Jagriti Church
Lalitpur – Jhyalantar Church
Bhaktapur – Samdan Baptist Church
Makawanpur – Immanuel Church, Intarang Church
Dhading – New Life Church, Dhola Church, Himalayan Pratigya church
STAGE 3
Kathmandu – New Jerusalem Church, Nepal Thok Church, Nepal Bible Church
Nuwakot – Khanikhola Church, Budhdha Singh Church, Prasansha Church
Dhading – Sasah Christian Church